Turlough Museum showcases Con Mönnich and Peti Buchel
in
'Lost & Found'
a unique combination of black & white images from the past and the present
Opening 4th of December 2018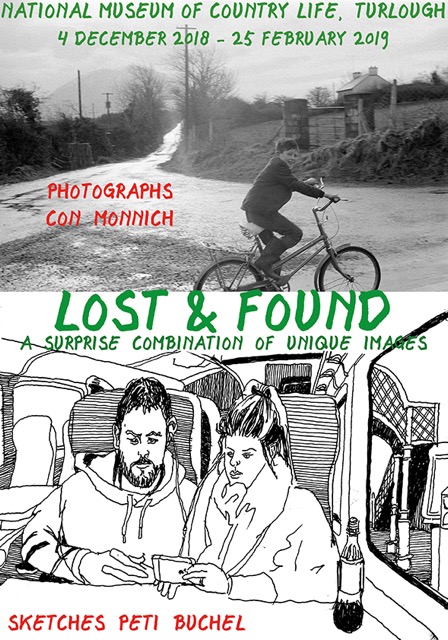 About the exhibition in The Turlough Museum

The exhibition 'Lost & found' by Con Mönnich and Peti Buchel is a unique blend of photographs of rural life in County Mayo in 1974 and ink sketches made in the present.
This combination surprizes in many ways.
Lost
Lost are much of the outward characteristics of 1974, to name a few: the turf accountant with its reliance on newspapers and radio, the donkey as a working animal and the cart maker. In its stead there are busy car parks, Netflix and a changed social landscape.
Found
Found are unique photographs made in the winter of 1974. They show a rural Ireland that was on the verge of changing forever. The collection fills a gap in the recorded history of County Mayo. Also 'Found' is the fact that although the photos were taken in 1974 and the drawings are from recent years, the overall impression is the same. As if time's changes are not important, but human life and endeavour are.
Past
When Con Mönnich took his black and white photographs in 1974, the weather was bleak and the landscape battered and wet. The roads were mostly empty of cars and left to the school children and other pedestrians. It was the time of year that not much outside farm work could be done, and most of the able men were working abroad. It was the first year of Ireland as a full member of the European Economic Union, later known as the EU.
Present
Peti Buchel is an artist who sits down – wherever and whenever – to sketch life as it presents itself. That makes her drawings lively, informative and intimate. The black and white line drawings are views of 'modern' rural Ireland characterized by a heady combination of change and tradition.
About Con Mönnich
The Dutch photographer Con Mönnich (1948) travelled in February 1974 around western Mayo and Achill in his vintage Wolseley. He came to Polranny as guest of the artist group Polranny Pirates. He worked as a commercial photographer in Holland and France on diverse subjects from portraits to aerial platforms.
After he retired as a professional photographer, he finally had time to take a good look at his old negatives. What he found inspired him to retrace his steps to County Mayo.
About Peti Buchel
The Dutch artist Peti Buchel (1946) has been coming to county Mayo since 1972. She's a member of the artist group Polranny Pirates. After a career as a cartoonist and graphic novelist, she now records life around her in black & white sketches.