Ierse kustlijn in Mayo met zicht op Clare Island vanuit Corraun.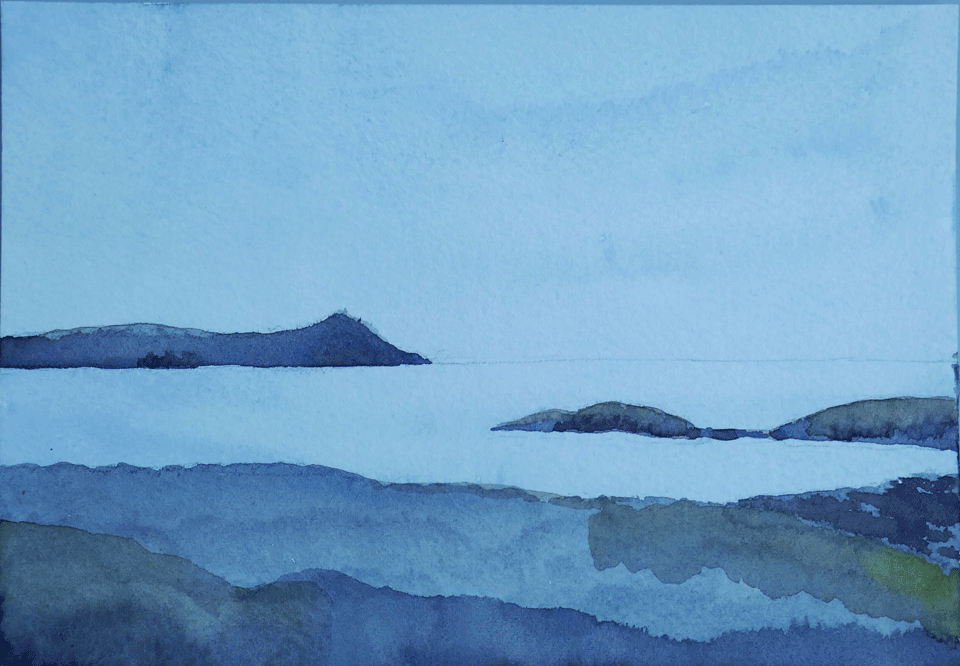 Encounters
I'm a traveller, summer holiday or not. The incidents I encounter are never incidents by
themselves. They are part of a canvas of observations and occurrences that eventually find
their way in a story, an idea, an image, a form.
I'm a visual artist and all incidents or encounters start with looking.
Things I see become mine. I'm drawn to all things in nature – interested in shapes, pattern
and forms. I jot things down as little images in my head, collect small objects that act as
markers.
My mind is travelling too. I can be lost in thought, gazing out the window at the landscape –
trying to recall an image, bringing it up closer to sharpen it. The water, the sea, the endless
day.
Walking in nature is part of the journey. My feet are pulled in the earth, as I walk the trail.
The pace of my steps and the ground connects me to time, place and mind, all at once.
The trails take me through the bogs and the peat. Seeing the dark earth literally exposed,
nature and time visible, with the human spade severing the earth and connecting with it at
the same time. Encountering the landscape, human-made, land scaped. Across time, linking
the past to the here and now.
My art work is about repeated removal of paint as well as the application of it – with traces
of controlled chaos and lines. I like to destabilise an idea while making something that takes
a long time.
The water strikes against
every stone and both,
stone and water flow together,
forming a shape without name.
And that is exactly where words run out.
— From 'Mangrove' by Tomas Gonzalez
Rody Luton
25 August 2018
Polranny House, Co. Mayo, Ireland