Turlough Museum toont uniek werk van
Con Mönnich en Peti Buchel
in
'Verloren en Gevonden'
een unieke combinatie van zwart-witafbeeldingen uit het verleden en het heden
Opening 4 december 2018
Een wintertentoonstelling in het Turlough Museum of Country Life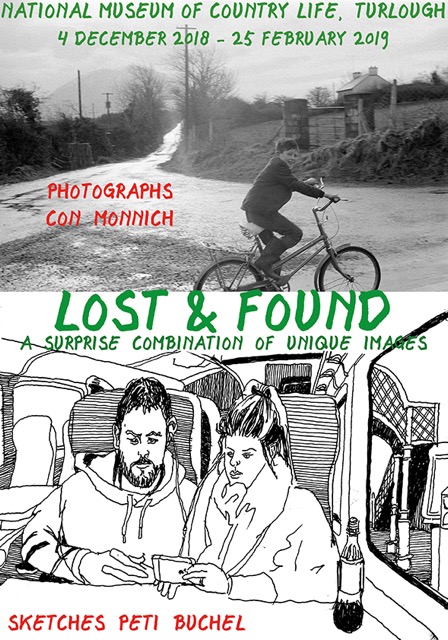 Over de tentoonstelling in het Turlough Museum
De tentoonstelling 'Lost & found' van Con Mönnich en Peti Buchel is een unieke combinatie van foto's van het landelijke leven in County Mayo in 1974 en inktschetsen gemaakt in het heden.
Deze combinatie verrast op veel manieren.
Verloren
Verloren zijn veel van de uiterlijke kenmerken van 1974, om er maar een paar te noemen: de turf accountant met zijn afhankelijkheid van kranten en radio, de ezel als werkdier en de wagenmaker. In de plaats daarvan zijn er drukke parkeergarages, Netflix en een veranderd sociaal landschap.
Gevonden
Gevonden zijn unieke foto's gemaakt in de winter van 1974. Ze tonen een landelijk Ierland dat op het punt staat om voor altijd te verdwijnen. De collectie vult een gat in de geschiedenis van County Mayo. Ook een vondst is het feit dat, hoewel de foto's in 1974 werden genomen en de tekeningen van recente jaren zijn, de algehele indruk hetzelfde is. Alsof de veranderingen in de tijd niet belangrijk zijn, maar het menselijk leven en de ambities wèl.
Verleden
Toen Con Mönnich in 1974 zijn zwart-witfoto's nam, was het weer somber en het landschap weerbarstig en nat. De wegen waren het domein van de schoolkinderen en andere voetgangers, er was geen auto te bekennen. Het was de tijd van het jaar dat de boeren buiten niet veel konden uitrichten, en de meest bekwame mannen waren voor werk naar het buitenland vertrokken. Het was het eerste jaar van Ierland als volledig lid van de Europese Economische Unie, later bekend als de EU.
Heden
Peti Buchel is een kunstenaar die – waar en wanneer dan ook – gaat zitten om het leven te schetsen zoals het zich aandient. Dat maakt haar tekeningen levendig, informatief en intiem. De lijntekeningen in zwart-wit zijn weergaven van 'modern' landelijk Ierland, gekenmerkt door een opwindende combinatie van verandering en traditie.
Over Con Mönnich
De Nederlandse fotograaf Con Mönnich (1948) reisde in februari 1974 rond door West-Mayo en Achill in zijn vintage Wolseley. Hij kwam naar Polranny als gast van de kunstenaarsgroep Polranny Pirates. Hij werkte destijds als commercieel fotograaf in Nederland en Frankrijk op uiteenlopende onderwerpen, van portretten tot hoogwerkers.
Toen hij met pensioen ging, had hij eindelijk tijd om zijn oude negatieven goed te bekijken. Wat hij vond inspireerde hem om terug te keren naar County Mayo.
Over Peti Buchel
De Nederlandse kunstenaar Peti Buchel (1946) komt sinds 1972 naar het county Mayo. Ze is lid van de kunstenaarsgroep Polranny Pirates. Na een carrière als cartoonist en graphic novelist, registreert ze nu het leven om zich heen in zwart-witte schetsen.[:en]
Turlough Museum showcases Con Mönnich and Peti Buchel
in
'Lost & Found'
a unique combination of black & white images from the past and the present
Opening 4th of December 2018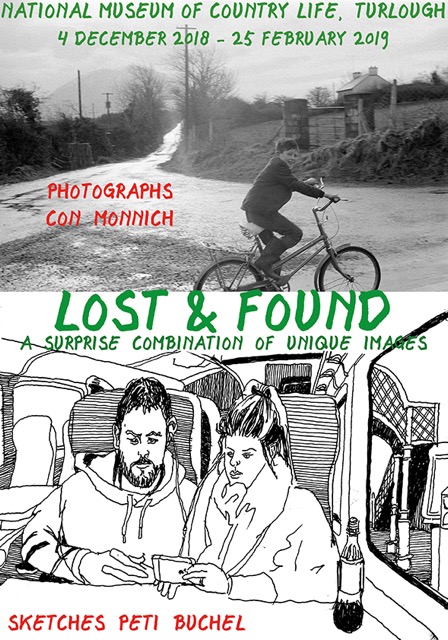 About the exhibition in The Turlough Museum

The exhibition 'Lost & found' by Con Mönnich and Peti Buchel is a unique blend of photographs of rural life in County Mayo in 1974 and ink sketches made in the present.
This combination surprizes in many ways.
Lost
Lost are much of the outward characteristics of 1974, to name a few: the turf accountant with its reliance on newspapers and radio, the donkey as a working animal and the cart maker. In its stead there are busy car parks, Netflix and a changed social landscape.
Found
Found are unique photographs made in the winter of 1974. They show a rural Ireland that was on the verge of changing forever. The collection fills a gap in the recorded history of County Mayo. Also 'Found' is the fact that although the photos were taken in 1974 and the drawings are from recent years, the overall impression is the same. As if time's changes are not important, but human life and endeavour are.
Past
When Con Mönnich took his black and white photographs in 1974, the weather was bleak and the landscape battered and wet. The roads were mostly empty of cars and left to the school children and other pedestrians. It was the time of year that not much outside farm work could be done, and most of the able men were working abroad. It was the first year of Ireland as a full member of the European Economic Union, later known as the EU.
Present
Peti Buchel is an artist who sits down – wherever and whenever – to sketch life as it presents itself. That makes her drawings lively, informative and intimate. The black and white line drawings are views of 'modern' rural Ireland characterized by a heady combination of change and tradition.
About Con Mönnich
The Dutch photographer Con Mönnich (1948) travelled in February 1974 around western Mayo and Achill in his vintage Wolseley. He came to Polranny as guest of the artist group Polranny Pirates. He worked as a commercial photographer in Holland and France on diverse subjects from portraits to aerial platforms.
After he retired as a professional photographer, he finally had time to take a good look at his old negatives. What he found inspired him to retrace his steps to County Mayo.
About Peti Buchel
The Dutch artist Peti Buchel (1946) has been coming to county Mayo since 1972. She's a member of the artist group Polranny Pirates. After a career as a cartoonist and graphic novelist, she now records life around her in black & white sketches.