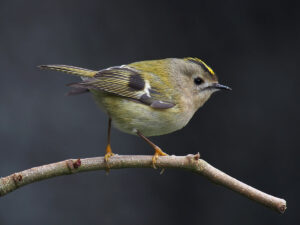 Recently spotted in the Polranny Pirates' garden, the tiny goldcrest has a bill to tail measurement of a mere nine centimeters making it Europe's smallest bird. Nonetheless, the adult female can lay up to twelve eggs in one batch, which adds up to about one and a half times her own body weight. The eggs measure a minuscule 1.4 centimeters but, on average, goldcrests manage to raise an impressive twenty chicks in a single breeding season. The parents are monogamous.
Why Polranny?
Goldcrests love conifers – which are abundant in Polranny – and build their compact, three-layered nests amongst the branches. Goldcrests are also constantly on the move, making them difficult to identify as they flutter amongst the dense foliage.
How the goldcrest flies
If you see a tiny, indistinct form whooshing by, it could be a goldcrest. Its flight consists of whirring wing-beats with occasional abrupt changes of direction and frequent hovering in search of tasty insects. It moves restlessly amidst the greenery, regularly creeping along branches and up and down tree trunks.
For further information about Europe's smallest bird: https://en.wikipedia.org/wiki/Goldcrest