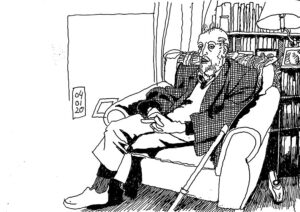 ©Peti Buchel
Born in Donegal, Noel first worked in the Irish film industry where he met his future wife, Joan. Their marriage was a lifelong love affair.
After graduating in Arabic language and culture at a British Foreign Office institute in Lebanon, Noel entered the world of international banking. He lived and worked at various locations both in the Middle East and India. Eventually he swapped banking for writing and a cottage on Achill in the untamed West of Ireland.
From the early Seventies onwards, Noel wrote and published five books: thrillers Quinn, Quinn & the Desert Oil and The Gulf along with horror novels Black Ashes and Apparitions, which is set on an island off the Irish coast.
It was during this time that Noel and Joan purchased and ran the Amethyst Hotel in Keel, which was particularly popular with the Protestant clergy. The Amethyst also featured fictitiously in Kevin Barry's Beatlebone, a novel based on John Lennon's attempts to visit Dornish, the island he bought in Clew Bay.
And then there were the animals. Noel and Joan adored and cared for generations of vulnerable and rejected dogs and cats including Chance, a gun-shy gun dog whose adoption was his very last chance.
As befits a wordsmith, Noel was a splendid raconteur and his humour, once heard, was never forgotten. One such instance was his answerphone message that seemingly emanated from an SM dungeon. It began with the immortal words, 'I'm kind of tied up right now.' Another example concerned Joan's use of valium on plane trips where Noel remarked, 'the plane crashed three times but Joan didn't notice a thing'.
Noel Scanlon's long and extraordinary journey was finally completed on 20 August 2023. His funeral and burial were held at St. Thomas' Church on Achill, the island that he loved and which nourished him for so much of his vibrantly creative life.
As Polranny Pirates, our thoughts and sympathy go out to Joan Scanlon at this most difficult of times.
© Annie Wright